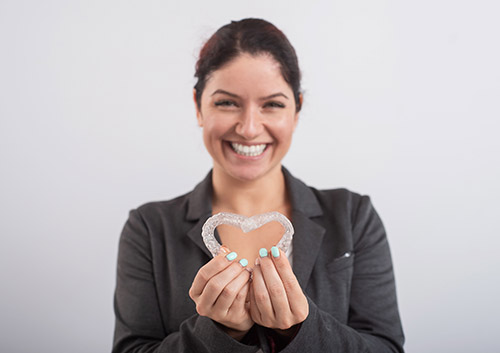 Dr. Kevin Mancini and our team have the experience and training to evaluate the present state of your teeth and bite, and to design a treatment plan to give you the healthy, attractive smile you picture for your future. And when you choose Invisalign® for your treatment, you'll be able to get an advance view of exactly what that future will look like!
How is this possible? Because when you choose Invisalign, you're getting the benefit of some of the most advanced technology in orthodontics.
The process begins with a computerized scan of your teeth and mouth. Special scanner software creates a 3D image to capture your smile as it is now. But that's not all. Using our customized treatment plan, Invisalign software can provide not only a model of your smile today, but an evolving model of what your smile can be. Seeing your present smile transform step-by-step into your future smile is a great motivator to follow that treatment plan!
For each step of your treatment, Dr. Kevin Mancini will provide a new set of aligners created to move your teeth and bite toward this goal. Why don't you need a mold made of your teeth every time you get a new aligner? Because, with Invisalign, we design your aligners to fit your future tooth alignment.
Aligners are not fabricated to snugly fit around your teeth as they are, but as they will be after several days of wear. Each set is molded with small improvements to your alignment, and provides gentle, consistent pressure to move your teeth to that next step.
This "future fit" is why you may experience a bit of discomfort with a new set of aligners. Over the days that you wear them, the fit will become more and more comfortable. This won't be because your aligners have changed. It will happen because your teeth have gradually moved where your aligners direct them.
Once your teeth and bite have reached this new step in your treatment, it will be time for the next set of aligners in the series, and so on. Dr. Kevin Mancini will let you know just how long you need to wear each set, and you can even track your progress with every appointment.
So, are we predicting the future? Not really. When you use Invisalign, we are planning and creating your future smile. Dr. Kevin Mancini will use the Invisalign system to customize your treatment for your very specific needs, step by step, and aligner by aligner, until you attain the smile you previewed before you even started treatment.
But one thing we can predict: If you follow our recommendations, keep your appointments at our Hampstead, NC and Jacksonville, NC office, and wear your aligners as directed, there's going to be a beautiful, healthy smile in your future.