The Ultimate in Crystal Clear Aesthetics™

With PURE Invisible Braces, your beautiful smile is all people will see today, tomorrow, and for a lifetime.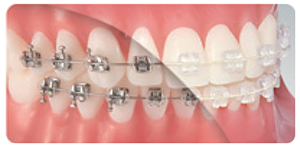 PURE Aesthetics: Flawless PURE brackets create a system with the highest transparency available for outstanding aesthetics. They are virtually invisible against any tooth shade and stay crystal clear without staining.
PURE Comfort: Each PURE bracket has been diamond and heat polished to produce rounded, smooth corners for uncompromised comfort. The small bracket size and low profile design ensure a bracket that both you and your doctor will appreciate.
PURE Strength: PURE brackets are made from monocrystalline sapphire, making them far less brittle than aesthetic braces of the past.
© 2009 Ortho Technology, Inc. PURE is a registered trademark of Ortho Technology.