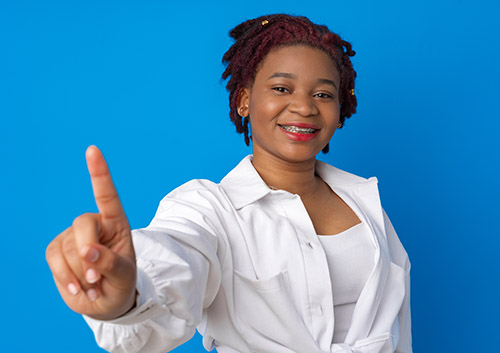 As you near the end of your orthodontic treatment, you're probably already imagining the day when your brackets and wires finally come off. Or the moment you've finished with your last set of aligners. That day might come just a bit sooner if Dr. Kevin Mancini and our team recommend a positioner.
While not as well-known as other orthodontic treatments, a positioner is an appliance that can shorten your time in traditional braces and aligners by weeks or even months. Curious? Read on!
What Exactly Is a Positioner?
A positioner resembles a clear mouthguard. Its arched shape is designed to fit snugly over your teeth. It's sometimes called a finishing appliance, because it's designed to make those last small adjustments to your alignment and bite. If you're a good candidate for a positioner, it can replace your braces or aligners for your last several weeks or months of treatment.
How Are Positioners Made?
This appliance is custom fabricated to fit your very specific orthodontic needs. Commonly, a mold is made of your teeth. A model of your teeth is made from this mold. Precision instruments are used to move the model teeth into your ideal alignment.
Once this model of your future finished smile is complete, it is used to create the positioner. When the thermoplastic material is molded to the model, it creates an appliance with an indentation for each individual tooth in its desired final location.
Available in a variety of materials, a positioner is most often designed as a clear single piece, covering both your upper and lower teeth. This makes sure that your teeth are not only aligned properly, but that your upper and lower teeth are working together for a healthy bite. Openings in the positioner provide airways which allow you to breathe easily.
Because your teeth haven't settled firmly into place yet (this will happen as you wear your retainer), they're still able to move. That's why your positioner is shaped to fit your teeth in their future ideal placement, not where they are at present.
Positioners require your active participation. Your teeth move to the ideal spots molded into the positioner through "exercise"—biting down on your appliance for 15-20 seconds before relaxing your bite, usually every 10-15 minutes during your daily wear. The gentle force provided by your jaw muscles helps guide your teeth into position more quickly. Dr. Kevin Mancini will give you instructions on just how to—and how often to—do these exercises.
Positioners are commonly worn at least four hours a day to start with and all night long, or Dr. Kevin Mancini might recommend 24 hour a day wear for the first week. As you progress, you'll wear them for shorter periods during the day, gradually tapering off until your treatment is complete.
Depending on the amount of correction that's still needed, positioner use ranges from several weeks to several months. One thing that will ensure that your time in a positioner is as short as it can be is your willingness to follow our instructions. The speed and effectiveness of your final tooth movements is largely up to you!
Gentle treatment is best. Clean your positioner before and after wearing it using a toothbrush and mild toothpaste. Never boil it or expose it to heat. We will give you instructions for how to clean it more thoroughly, if needed.
Like retainers, clear aligners, and mouthguards, a positioner needs to be protected when it's not in your mouth. Your positioner will come with a case, so be sure to use it!
Positioners aren't recommended for every orthodontic patient. But if you feel this might be an option worth pursuing, talk to us when you visit our Hampstead, NC and Jacksonville, NC office. A positioner could be an effective, time-saving step on your path to a lifetime of healthy smiles.