November 8th, 2023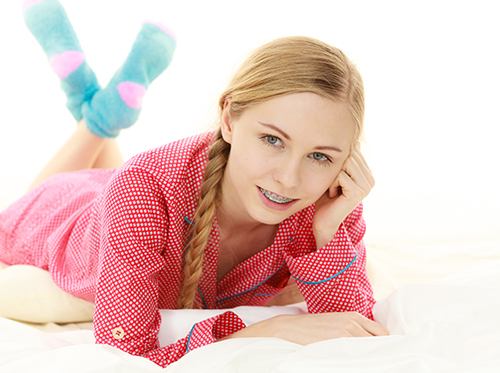 It's useful to know some of the common problems that can arise when you get braces. Even if you take great care of your braces and teeth, you might not be able to avoid certain issues or side effects that accompany braces. But don't worry: These are all common problems that can be taken care of by following some simple advice.
If you just had your braces put on, you may notice some general soreness in your mouth. Your teeth are starting to adjust to having to shift, so they may ache, and your jaw might feel tender at first. This will subside once your mouth becomes used to the new appliance in residence.
You may experience soreness on your tongue or mouth, which may be a sign of a canker sore. Canker sores are common when braces rub against your mouth. You can use ointments to relieve pain and numb the area that's been irritated. Canker sores are commonly caused by broken wires or loose bands on your braces.
Common Issues
Loose brackets: Apply a small amount of orthodontic wax to the bracket. You might also apply a little between the braces and the soft tissue of your mouth.
Loose bands: These must be secured in place by Dr. Kevin Mancini. Try to save the band for repair.
Protruding or broken wires: Use the eraser end of a pencil to push the wire carefully to a less painful spot. If you are unable to move it, apply orthodontic wax to the tip. If a mouth sore develops, clean your mouth with warm salt water or antiseptic rinse.
Loose spacers: These will need to be repositioned by Dr. Kevin Mancini and possibly replaced.
Avoiding Issues
You should avoid certain foods that could cause major damage to your braces. No matter what you eat, make the effort to cut your food into small pieces that can be chewed easily. This will prevent chunks of it from getting lodged between brackets.
Avoiding hard and chewy foods is also wise. Some foods can break your hardware: for example, popcorn, nuts, apples, gum, taffy, and hard candies. Avoiding any foods that easily got stuck in your teeth when you didn't have braces is a good rule to follow.
The appliances in your mouth are bound to attract food particles and make it easier for plaque to build up. By making sure you brush and floss carefully every day, you can prevent stains and cavities from developing over time. Dr. Kevin Mancini and our team recommend brushing and making sure that food isn't lodged between your braces after every meal.
Having braces can be very exciting, but it can also be challenging at first. Watching for these common issues during your first few weeks can prevent problems down the road. If you experience a lot of pain from your braces, contact our Hampstead, NC and Jacksonville, NC office and we can try to resolve any issues.
Braces can sometimes be a pain, but they're well worth it once your new smile gets revealed!